TeenSafe
Product Market Fit Research
Overview
During the time I was working with TeenSafe, we expanded our product line from the original TeenSafe Monitoring platform, to also include a new app called TeenSafe Control. This new app allowed parents to control the apps their children could download onto their smartphone, as well as limit the time their children would be able to access their downloaded apps. The growth of smartphones has been exponential, with children now getting their first smartphone at the age of 10. Parents were constantly looking to have the ability to shut off certain apps for use cases such as school, study time, or quality family time.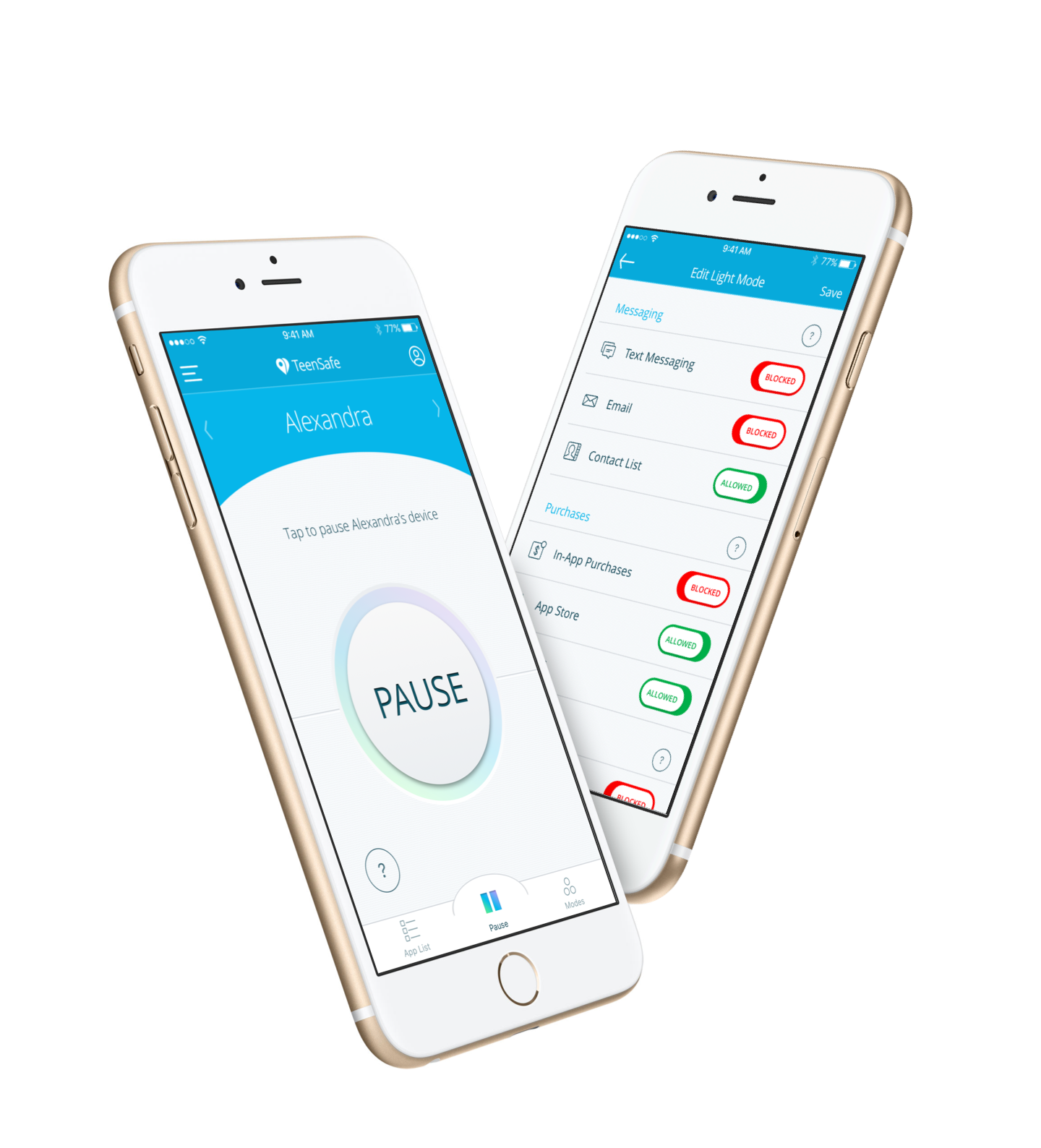 Challenge
Based on previous research, competitive analysis of other tools out there, and understanding of our target audience, Product and Design worked together to come up with various concepts for the Control app including variations of full app blocking function vs. individual app blocking and scheduling features. We found ourselves at a stalemate with our Board of Directors about which direction to go regarding these features as well as some other major decisions such as pricing and naming. We took the opportunity to turn to our community of parents to help in the decision-making process.
User Research
Goals
During our user research we wanted to answer a few fundamental questions:
How and when might a parent use the Pause button?
Would they look to 'Pause' the whole device completely or block only individual apps?
Which direction of UI do parents prefer?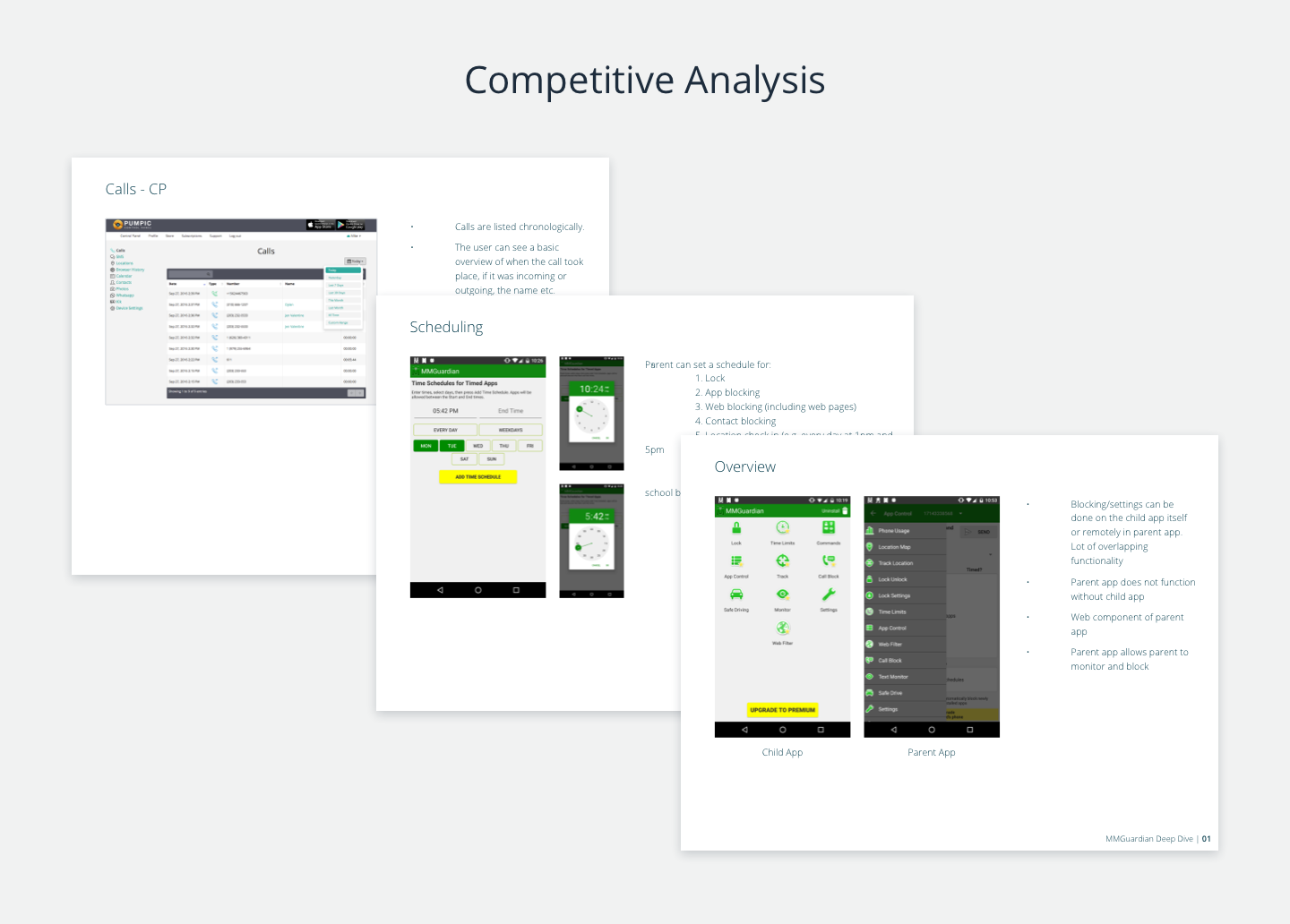 Demographics
We tried to match our testing demographics as closely as possible to our actual user base by breaking the testers into ~60/40 women to men, with a median age of 40; and an average of two children per parent, with an average age of 11. While the testers were not from our current customer base due to a potential of bias from using our current product offerings already, it was very important we matched our demographics to our target market to get the best sense of their thoughts and feelings around this product.
Feedback
The main feature we were testing was our proprietary "Pause" button. With a single tap parents could 'pause' all apps on their children's smartphones except the phone app (in case of emergencies). Otherwise the child would lose the ability to access all other app from the phone for a period of time set by the parent with this Pause button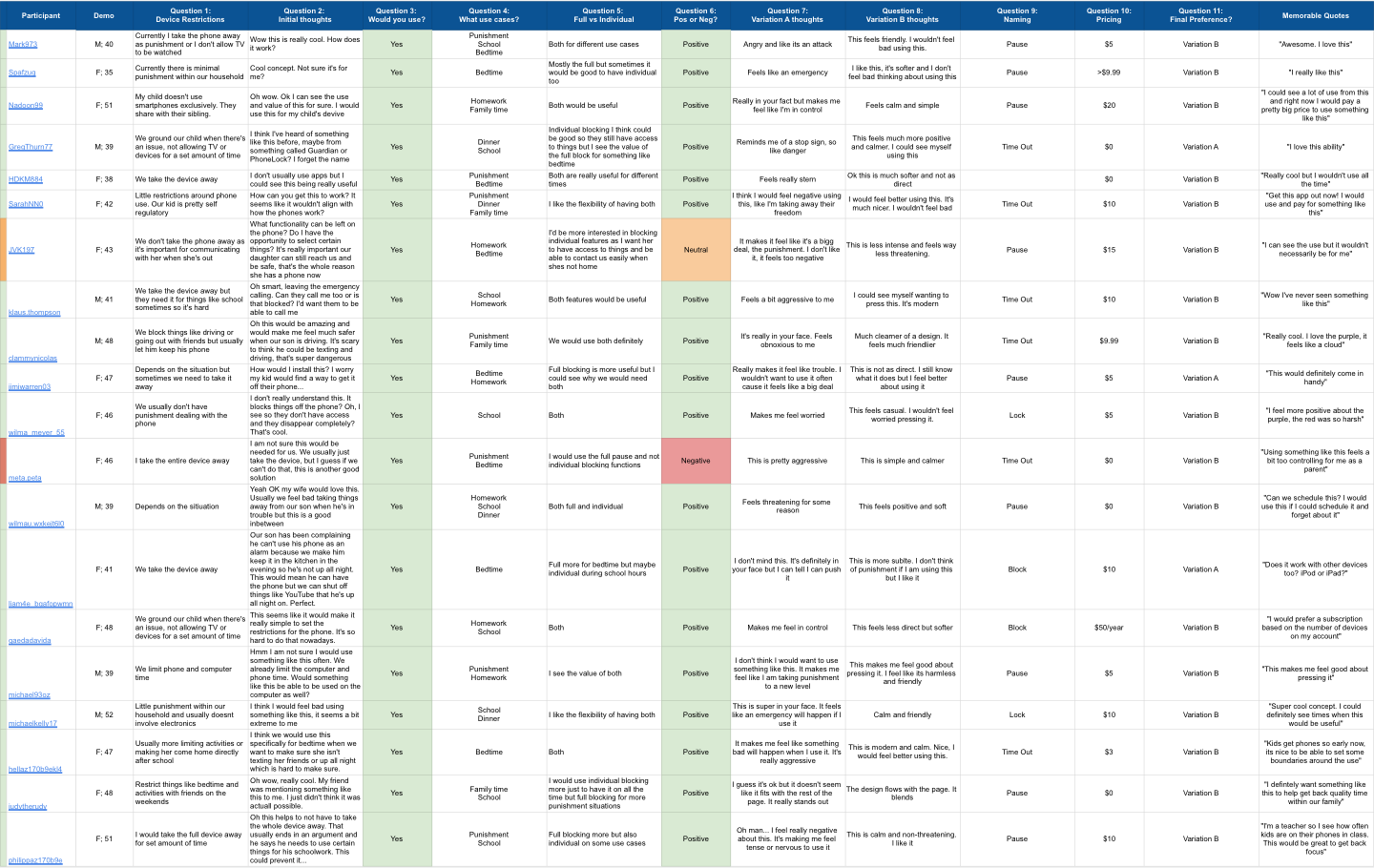 We were thrilled to see the initial reaction from parents as very positive with quotes such as: "Love this ability"; "This would definitely come in handy."; and "Get this app out now! I would definitely use and pay for something like this."
100% of the parents we interviewed were interested in or would use the Pause button functionality.
Additionally, we found that 95% of parents interviewed would like the ability to use both the Pause button functionality as well as the ability to individually block apps on their child's device. This was a surprise to us and helped us pivot our release strategy of the app. Also, 65% of parents mentioned unprompted wanting a scheduling feature, another great insight for our roadmap.
Outcome
There had been some back and forth internally within the company about the look and feel of the Pause button. Our stakeholders had an image of the Pause button in their head as very direct and would be mostly used for 'punishment' of the child. This was a disparate image of what previous market research and user interviews had informed product and design, but a prime example of when user testing and getting information straight from the source is important. We developed two versions of the Pause button for testing our hypotheses.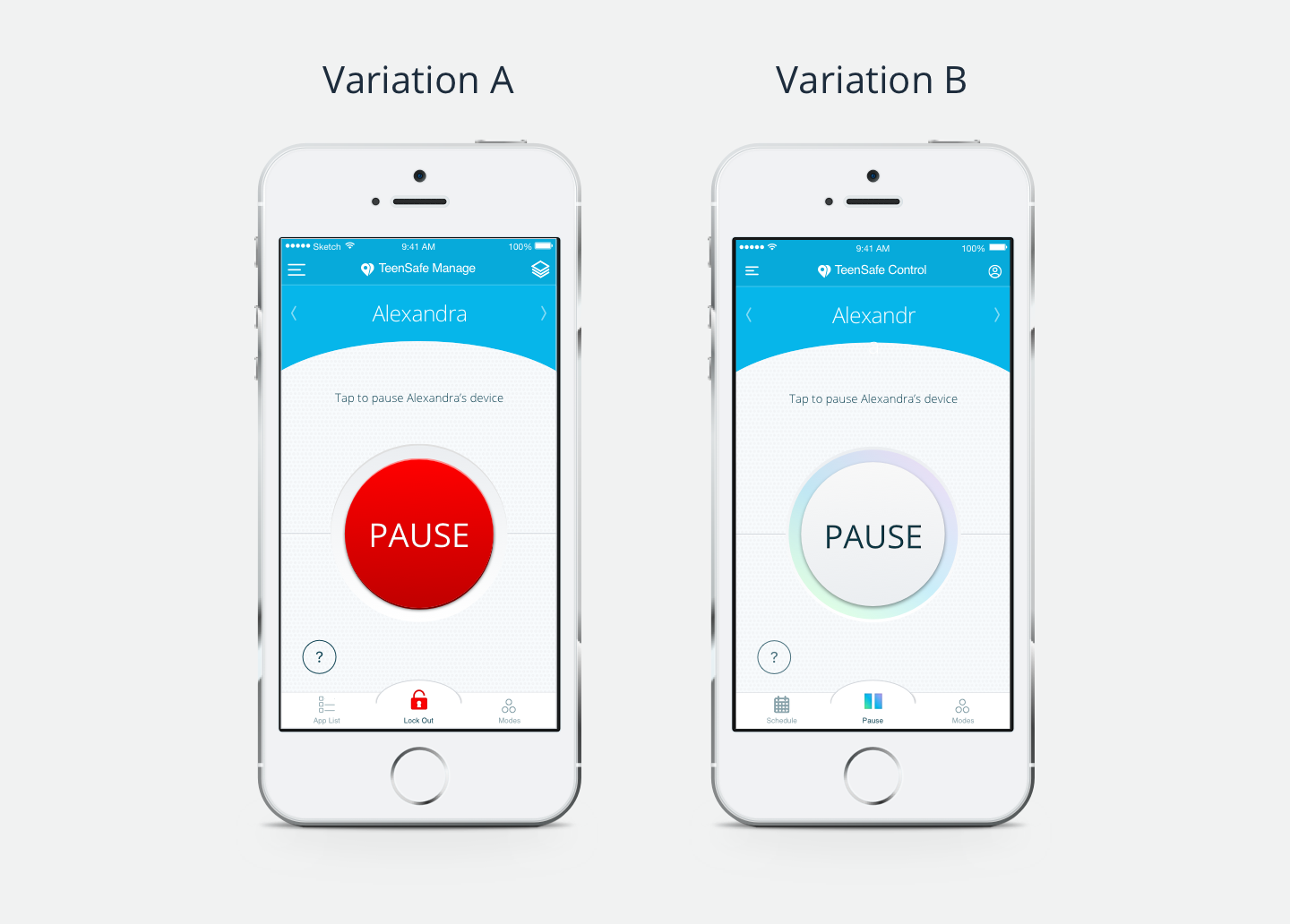 In an even split of parents seeing Version A or Version B first, we asked the parents how they felt regarding the two versions of the Pause button, as well as how they might use a feature like this within their own family. While punishment was one of the main reasons mentioned for using this feature, along with bedtime and school/study time, the result was overwhelmingly one sided, with Version A being seen as "angry", "a bigger deal", or like an "emergency"; while Version B was felt to be "non-threatening", "softer", and "calmer and more modern."
While the use cases aligned with some of the initial hypotheses we had, the feelings parents had associated with the two different UI led them to feel very different psychologically when thinking about using this feature.
Additional Features
The test helped validate certain assumptions and move forward with a visual direction of the app that better aligned with the feelings of parents and made them feel psychologically safe while using our app. This saved time and energy across the company in both development but also marketing and launching the product.
Beyond that, the test helped us clearly see what features were wanted and needed next by parents, leading us to a clear roadmap. After the initial launch of the Pause button app, we quickly released individual app blocking and then a scheduling feature.